Remember when you were a kid and your mom nagged you about saying "thank you"? Well, it turns out she was right. (Also, stop slouching.) The simple act of following up a job interview with a thank you note can help you stand out other applicants. In addition, it's a great opportunity to remind a hiring manager of your qualifications. Here's everything you need to know about how to write a thank you email that will help increase a positive impression and increase your chances of getting the job you want.
Want to add value to your job application? Using a professional cover letter builder can help you stand out from the competition. Use ours to build a stand out letter that will get you noticed.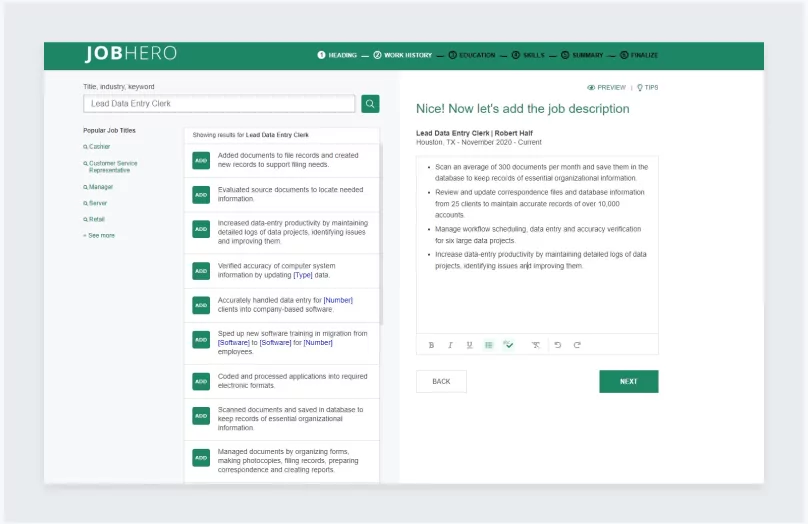 BUILD MY RESUME
Why It's a Good Idea to Write a Thank You
Note After a Job Interview
Following up a job interview with a thank you email is always a good idea. It not only shows that you care about the job and are passionate about going that extra mile, it's also a way to reinforce key reasons why you're the right person for a particular opening.
It's easy to get busy and forget to send a thank you, so make a habit of sending your thank you email as soon as possible, ideally the same day as your interview. (If for some reason you are delayed, it's OK so send your email a few days later–after all, it's better to be a few days late than not send anything at all.) Remember that the real purpose of your email is to demonstrate all the reasons you deserve the job: that you are focused, passionate about the job, a good communicator and someone who pays attention to detail.
Your thank you note is also an opportunity to make any points you wished you had raised during the interview. If there was a question the hiring manager didn't ask, you can address it now in your letter, or add some additional pertinent details to an answer you gave.
By following up with a thank you letter, you are also demonstrating that you are thoughtful, considerate, and well-organized–qualities almost every employer will value.

PRO TIP :
If you send an email and don't hear back, don't worry. The hiring manager is busy and you aren't trying to become pen pals. Just continue your job search and rest assured you've done your best. Emailing more than one follow-up thank you note won't help improve your chances of getting hired and could come off as pushy or unprofessional.
6 Key Steps to Writing a Perfect Thank You Note
1
Make a connection
Make sure to ask for a business card after every job interview you have. This will make it easy for you to address your thank you letter to the person who interviewed you. If you meet with more than one person during a single job interview, write individual emails, making sure they are not all identical. Begin your note with something to help the hiring manager remember your interview in a positive light.
2
Be Brief
Keep in mind that hiring managers are busy. Your letter should be no more than three short paragraphs. Highlight a few of your key skills and reiterate how excited you are about the job, but don't use the email to introduce any extraneous information. This is a business letter so keep the tone professional and the length succinct.
3
Sell yourself all over again
Sure, you're writing to say thank you for the interview and you should definitely say that at the top of your email. But the real purpose of this message is to reinforce your value and skills and connect them to the job requirements.
4
Get specific
Use your thank you letter to prove that you were focused and paying attention during the interview. Reiterate specific important points made by the hiring manager to show that you understand details about what the job requires. Repeat key words from the job listing and remind the reader why you'd be a great fit for the job.
5
Add value
Offer something of value that demonstrates why you'd be a great hire. For example, follow up on your interview with a brief suggestion or idea that demonstrates the skills you would bring to the table if hired.
6
Be proactive
End with a call to action, an invitation, or statement of intent, such as "I'm really looking forward to speaking with you again."

Create your own professional resume in just minutes.
Try our resume builder today
When to Send a Handwritten Thank You
Note Instead of an Email
We're two decades into the 21st century now, and everything that can be digital is digital. So for most job interview follow-ups, sending an email is entirely appropriate. There are some situations in which a hiring manager has to make a quick decision, and if you take a few days to mail a letter, the position may already have been filled. The benefits of sending your thank you note by email are not only that you can follow up faster and save the cost of a stamp. You can also use your email to send links, perhaps sharing information you weren't able to show during your interview such as a website, LinkedIn profile, or digital files with examples of your work.
There are a few exceptions however, when taking the time to write an old fashioned pen-and-ink letter might serve your interests. For one thing, it will certainly help you stand out from the crowd. You may also want to consider snail mail if you are interviewing with a company that is extremely formal or where a premium is placed on old-fashioned etiquette. (For example, if you're applying for a job with a high-end luxury brand, a hand-written letter may score additional points but proving you understand the company's culture.) In such cases, select a high-quality paper or card stock and rely on the US Postal Service to deliver your letter.
Remember that whatever you send will be considered an example of your work. If you have good penmanship, a handwritten note is acceptable, Otherwise, print your letter and sign it.
Because snail mail can take a few days, be sure to fire off your thank you letter immediately. It's also OK to send both, by following up first with an email and then mentioning that you've also sent something by mail. This is a good idea just in case your letter is delayed or lost. Whatever you do, make sure your grammar and spelling have been checked and double-checked. Sending a thank you note with errors is worse than sending nothing at all.
Thank You Note Example