Writing a resume seems pretty straightforward – you just list all of your credentials, experience and education, and a prospective employer will see that you're a great fit for the job, right? In reality, there is a bit of an art to deciding what to include on your resume and how to organize it. And the education section of your resume is no exception. Keep reading for tips on how to put together the type of clear, concise resume education section that employers like to see. And be sure to check out our Q and A at the end in which a CEO provides an employer's perspective on crafting a resume education section.
Interested in a cover letter? Our cover letter builder walks you step-by-step through the process of writing your own. With pre-written text suggestions for every section of your letter, writer's block will be a thing of the past.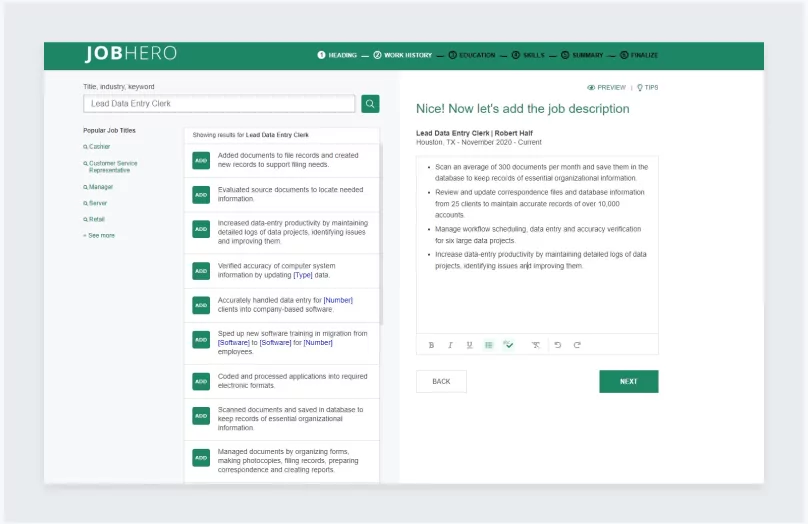 BUILD MY RESUME
Featured in:
How to Organize Your Resume Education Section
The last thing you want to do is hand a potential employer a resume that is cluttered and confusing. That's why it's so important to make sure that the formatting of your resume is consistent throughout – including the way you list your education. You list your job experience in reverse chronological order, putting your current or most recent position first. Organize your education section the same way – that is to say, start with the highest level of education you have attained.
This will not only create a sense of cohesiveness and clarity to your resume, but will also allow employers to see the most important parts of your
educational background
first. Before looking at your high school extracurricular activities, employers will want to make sure that you have the required education for the position. Thus, putting your highest level of education at the very top of the section is essential.
Additionally, since work experience is generally regarded as being more relevant than your education, your education section should be the last section of your resume.
Adding College
The college portion of your resume education section should clearly note what school or schools you attended and what degree or degrees you earned. You may opt to use the school as a subheading, and then list the degree below it. Beneath the degree, you can list any relevant extracurricular activities or honors in a bulleted list.
University of California at Berkeley
Bachelor of Arts in Anthropology
Recipient of Anthropology Honors
President of campus anthropology club
If you studied at a college but did not obtain a degree, simply state the subject that you majored in, such as:
George Fox University
Majored in Political Science
If you have multiple degrees from a single school, list the highest ore most relevant one first. In the case of multiple degrees from multiple schools, list each school and degree separately.
Include the date you received your degree. If you did not complete your degree, include the years during which you attended the school. Consider also including how many units you completed. Do not include your GPA, unless you are a recent graduate.
Resist any temptation you might have to add false embellishments to your education section (or any other part of your resume, for that matter). Employers are well practiced at distinguishing legitimate degrees and honors from fabricated ones, and will have no qualms at tossing out your resume once they find signs of misrepresentation.
Adding High School
If you're new to the workforce, list your high school experience on your resume. Once you have a year or two of experience, however, consider removing it. In general, the high school portion of your education should be much more sparse than the college portion. Simply name the school you attended, specify the years you spent there, and provide the month and year on which you received your diploma.
If you attended multiple high schools, narrow down the list to the ones you spent the most time at. If you spent half a semester at a charter school, your employer won't be interested. What's most important is the school where your spent the majority of your time and the school you received your diploma from. Anything else is unnecessary, and will make your education section seem bloated and messy.
If you received a GED or completed a high school equivalency program instead of obtaining a high school diploma, this is the portion where you should include that information.
Resume Education Section Insights from an Employer
To get an insider's perspective on how to create a great education section, we spoke with Michael Iacona, the founder and CEO of Rake, an app that allows you organize and keep track of job listings and applications.
When evaluating a resume, what do you look for in an applicant's education section?
Reviewing the education section of resume can at first present itself as obvious. The normal factors such as degree of education, area of study, etc. are all very important, but it's more important to see that applicants have done their homework on the role they're applying for and actually taken the time to add value to this section. Did they include applicable volunteer experience that's relevant to some of the finer details for this position? Is there a course they took on their own accord that makes them even more qualified for this type of role? These are a few of the factors beyond the "traditional" education section that demonstrate the applicant is not riding on a possibly dated degree, but instead shows growth potential.
What do you wish applicants knew about writing their resume's education section?
It's vital for applicants to know that holding degrees is not always the most qualifying factor. When looking at the education section of a resume, it's important to show how they've put their education to use in a real-life situation. Bring a sense of uniqueness to your voice in the education section, or break down which parts of the whole educational experience qualify you for this role in the cover letter. You may not immediately appear to have certain education qualifications. Rather than just submitting a ill-fitting resume impulsively or even dismissing it entirely, save the job listing and take the time to review what other qualifying factors may be acceptable.
What factors distinguish an excellent resume education section from a lackluster one?
It's extremely important that each application is customized. Every piece from each section in the resume all the way to the cover letter should be written to fit the specific role the applicant is applying for. An excellent education section shows me the applicant has researched the business, maybe even networked in and discussed the role with someone from my company. I can see this when "nontraditional" pieces of education have been included throughout the resume. To me, this is valuable education that would have otherwise been missing if the applicant hadn't invested time to research before applying. Lackluster education sections are those that follow a standard resume outline. There's high school, technical school or college degrees listed, but nothing that notes they've gone the extra mile to show how their education and experience has made them the perfect fit for the job.