During your job search, your resume is key to getting an interview. Potential employers use them to judge your experience, skills and qualifications to make sure you have what it takes to fill their position. However, once your resume gets the stamp of approval, potential employers want to know if the person behind the resume is a good fit. At this stage, they might look at your social media or check for references to build an idea of who you are and how you would perform in the role. However, no matter how much they learn about you, the only way for the hiring manager to know who you truly are is to meet and interview you. That is where self-advocacy comes in.
Self-advocacy is a fancy way to say "speak up for yourself" or "communicate your worth". This skill is helpful in life for maintaining relationships and negotiating with others, and is even more important in the job search process. Without it, hiring managers might not ever know your potential. If you are getting interviews but no job offers, use these worksheets to build self-advocacy skills to communicate your goals and values constructively.
Need cover letter guidance? Add a cover letter to your resume using our cover letter formats how-to guide and add value to your resume.
Boost your resume with an extra click. Our cover letter templates match our resume templates' designs for a cohesive application. Use a template in our builder to help you quantify and expand upon the experience from your resume and impress employers.
Featured in:
Self-Advocacy Tips for Interviews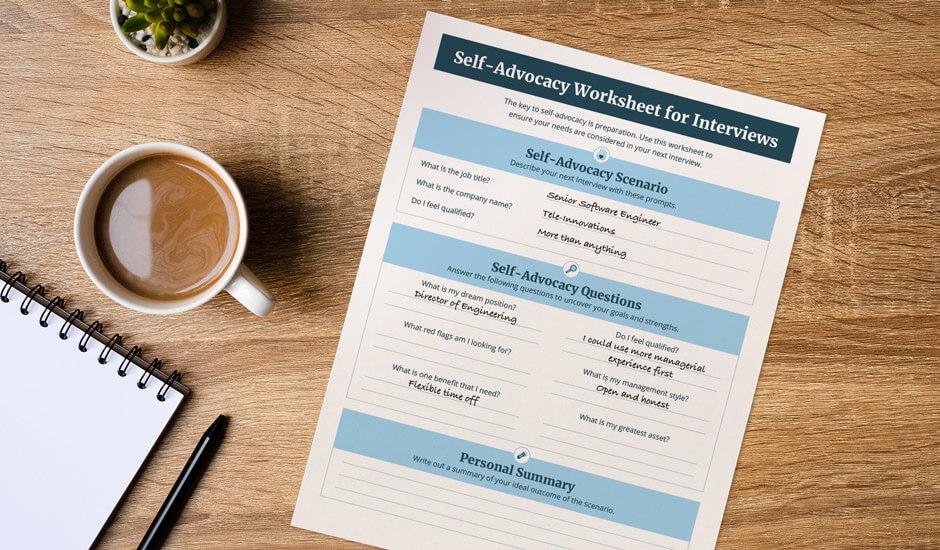 When you walk into an interview the person you are meeting typically has limited knowledge of who you are. Even though they may have read your resume, checked references or even looked at your social media, these sources won't tell them why you are an excellent candidate. For them to understand that, you must advocate for yourself in your interview.
1. Position Yourself as an Expert
Whether you struggle with imposter syndrome or feel underqualified, it can be easy to sell yourself short. In your interview approach each question like an expert. This will showcase your professionalism and allow the interviewer to take you seriously.
2. Prepare to Explain Shortcomings
For most positions, you won't meet every single qualification. You might not have the required degree or need a certification but that doesn't mean that you won't be considered. Before your interview, make a list of all shortcomings, and have a plan to address these positively and constructively in your interview.
3. Mention Non-Resume Highlights
The best way to advocate for yourself in an interview is to come armed with the experience and skills that your manager might not find on your resume or LinkedIn. For example, if you worked yourself through college, that might demonstrate your resourcefulness and determination or your volunteer experience might give insight into your passions.
The key to self-advocacy is preparation. Download and fill out this worksheet below and answer these prep questions to ensure your needs are considered in your next interview.
Prep questions:
What is my dream position?
Do I feel qualified?
What is my management style?
What is one benefit that I need?
What is my greatest asset?

Self-Advocacy Tips for Negotiations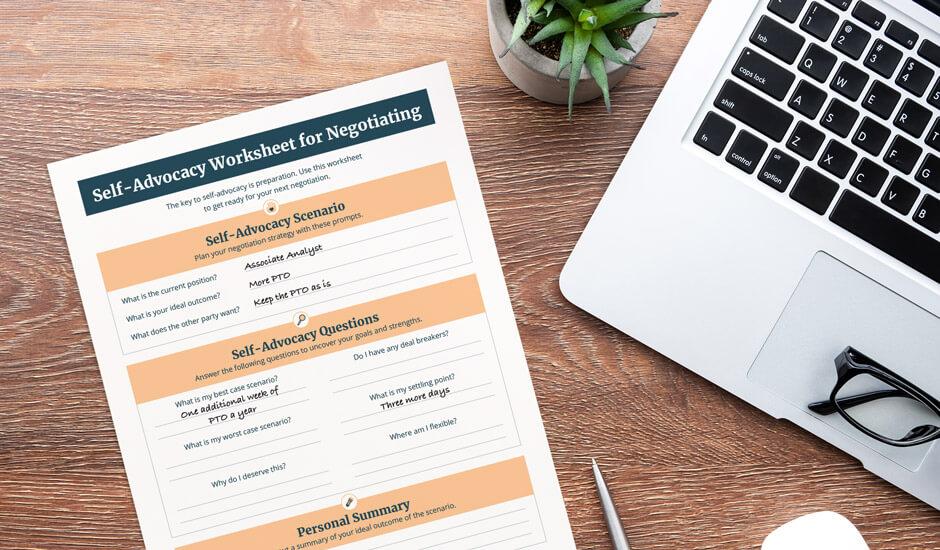 One of the most difficult parts of the job search is the negotiation process. Whether you experience imposter syndrome and don't know your worth or would like additional benefits, negotiation can feel like a sensitive topic. Nevertheless, communicating your worth in this process is crucial and can set the tone for your working relationship moving forward.
1. Bring Your Goals to the Table
Before you start negotiations, decide on your goals. Whether you want to get paid above the national average for your position or work from home two days per week, keep them concise and backed with reasoning. If you have several goals, try to distill them into bite-sized pieces. This will help you negotiate effectively.
2. Arm Yourself With Your Strengths
Once your goals are clear, back up each point with solid reasoning for your ask. Your goals might look like your years of experience, past success or letters of recommendation.
3. Know Your Settling Points
In a perfect world, you would get everything you want. In reality, you will likely come to a compromise between you and your future employer. To help you negotiate, come up with a list of settling points and deal-breakers. These could be a salary amount, vacation days or level of management.
As in interviews, the key to self-advocacy is preparation. Download and fill out this worksheet below and answer these prep questions to prepare your negotiation strategy using self-advocacy.
Prep questions:
What is my best-case scenario?
Do I have any deal breakers?
What is my worst-case scenario?
What is my settling point?
Why do I deserve this?
Where am I flexible?

Self-Advocacy Tips for Life and Work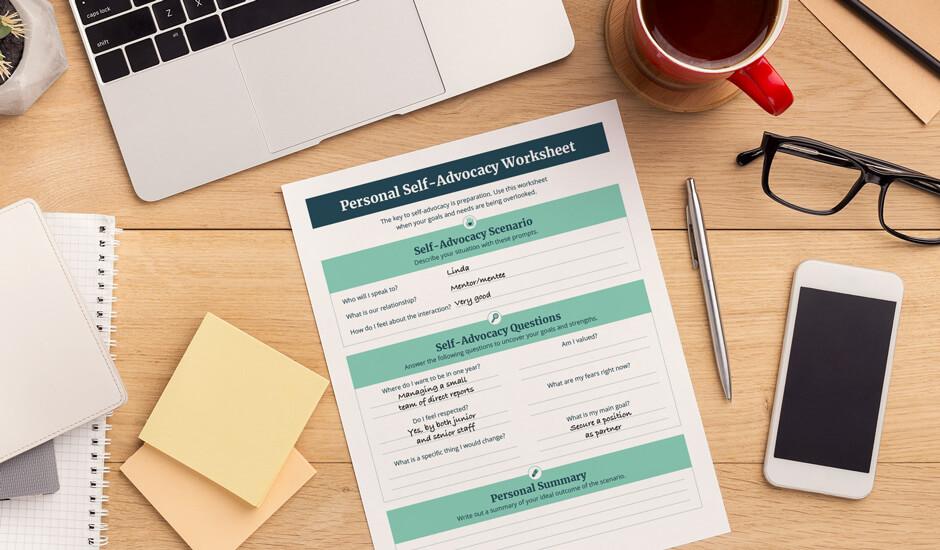 Outside of the job search, self-advocacy is crucial for creating work-life balance, maintaining healthy relationships and working effectively in your new role. However, advocating for yourself at work can be uncomfortable, and learning how to do it effectively can be a challenge.
1. Present Your Ideas
Speaking about your unique ideas can be difficult in environments where you don't feel acknowledged. However, no matter your background, you have valuable options and insight. When you find yourself in a situation at work or outside of it, present your ideas confidently and be ready to discuss them. For example, if you are giving your opinion on bringing on a new client, you can present your idea clearly and ask if anyone has any thoughts.
2. Ask for Help
Asking for help is a difficult self-advocacy skill to perfect but it can change the way you live and work. Like advocating for your strengths and abilities, advocating for your needs is equally important. On days when you are overwhelmed, learn to ask for help with courtesy and gratitude.
3. Learn to Say No
Saying no can be hard at home and feel impossible at work, but it is necessary from time to time. The first step towards mastering the art of saying no is to know your limits. When one of those limits is in jeopardy, find an alternate solution.
If you want to practice your self-advocacy skills for any area of your life, use this worksheet below and answer these prep questions to help identify your goals and communicate your needs.
Prep questions:
Am I valued?
Do I feel respected?
What are my fears right now?
What is a specific thing I would change?
What is my best-case scenario?

The road to finding the perfect job fit can be full of disappointments and frustration. From rejected resumes, failed interviews, it can feel like you are the only one who believes in your potential. If you feel stuck in an application rut, use these worksheets to build self-advocacy skills and learn to communicate your worth to interviewers, potential employers and whoever else might cross your path.