This guide contains information on how to become a psychiatric technician, including required education, training opportunities, salary expectations and advice from a real technician.
You'll also find access to psychiatric technician resume examples across all ranges of experience and the opportunity to use our Resume Builder with pre-written content suggestions, custom text templates and a matching cover letter wizard for a one-stop application experience.
Need cover letter guidance? Add a cover letter to your resume using our cover letter formats how-to guide and add value to your resume.
Boost your resume with an extra click. Our cover letter templates match our resume templates' designs for a cohesive application. Use a template in our builder to help you quantify and expand upon the experience from your resume and impress employers.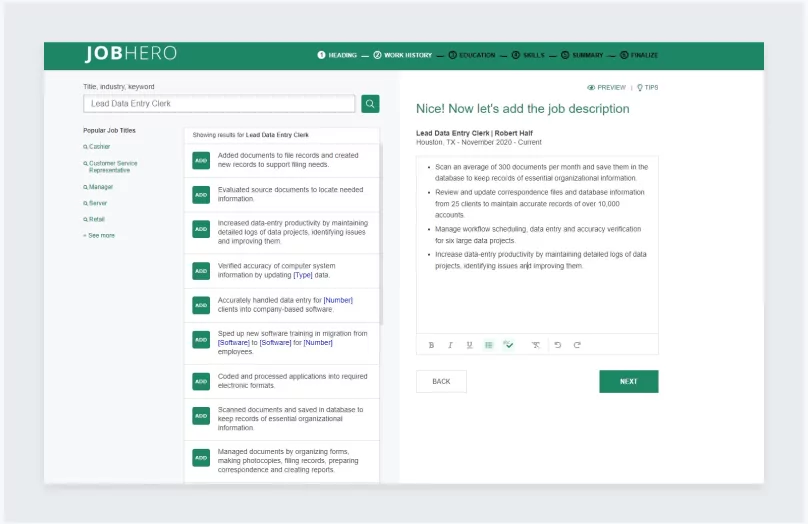 BUILD MY RESUME
What Does a Psychiatric Technician Do?
Psychiatric technicians observe and treat mentally impaired or emotionally disturbed patients. Many psychiatric technicians work in various environments, including residential treatment centers, psychiatric facilities, homes, crisis units, residential mental health facilities, and related health care settings, such as drug or alcohol treatment centers.
Being a psychiatric technician requires technical knowledge and intersocial skills. Some typical n duties and responsibilities include:
Monitor patients' physical and emotional well-being and follow physicians' orders and hospital procedures.

Assist with oral medications and hypodermic injections.

Help with rehabilitation, which may include caring for a patient's hygiene, such as bathing and changing her clothes.

Observe patients' behavior and interact with them.

Collaborate with doctors and psychologists to rehabilitate patients.

Collaborate with health care professionals to plan or provide treatment.

Promote patient wellness and work with them to foster independence.

Administer tasks, such as providing intravenous and non-intravenous medications to patients.
How Do You Become a Psychiatric Technician?
Demand for psychiatric technicians is increasing. The Bureau of Labor Statistics (BLS) forecasts a 9% growth through 2031, amounting to 12,500 new job openings over the next decade.
The profession's faster-than-average growth is driven primarily by an increased need for psychiatric technicians in residential settings, such as those specifically designed for treating substance abuse. This job growth is also due to the positive development of community-based residential treatment centers.
If this optimistic job growth appeals to you, follow these steps on how to become a psychiatric technician.
Psychiatric Technician Skills
Being a psychiatric technician means working closely with patients, so he should have strong communication skills. Since the position is physically and emotionally draining, you should have a strong desire to help people and a great deal of patience.
Because they contribute to the health and well-being of patients, psychiatric technicians could benefit from experience as medical assistants or nurses.
1
Physical strength — psychiatric technicians often work with volatile or violent patients and may need to restrain them to maintain staff and patient safety.
2
Driver's license to help transport patients to or from a hospital or residential care facility
3
Janitorial skills to maintain clean facilities.
5
Medication administration.
7
Treatment plan implementation.
1
Empathy to patiently interact with and assist mentally challenged patients daily who are frustrated with their condition or who need 24-hour assistance.
2
Strong communication, including verbal and written skills, to describe the treatment and encourage patients, accurately update case workers or colleagues, and maintain up-to-date patient files.
3
Strong listening skills to encourage patient trust, observe symptoms and adjust treatment as needed.
4
Leadership skills to effectively direct patients in therapeutic and recreational activities.
Insights from a Psychiatric Technician
To get a better idea of what to expect of the Psychiatric Technician profession, we asked experts in the industry and here is what they had to say.
What should someone consider before becoming a Psychiatric Technician?
As any job related to health care, time schedules are diverse meaning you might have to cover night shifts or sometimes be on call. With regards to mental health care, workers are so exposed to different patient behavioral problems that this often has negative side effects on the mental health of the actual professionals.
What is the common career path for a Psychiatric Technician?
A High School Diploma is the minimum requirement for becoming a Psychiatric Technician but is not the preferred one. If you want to become a Psychiatric Technician it would be a good idea to attend a post-secondary training program such as an associate's degree in arts or sciences or a bachelor's degree in a related field. The higher your education level the higher the probability of getting a job. To become certified though, you must take a written exam covering the topics of mental disorders and developmental disabilities.
What type of person excels in this job?
Empathetic and patient people who genuinely care for the mental wellbeing of other people. Professionals who can adapt to different scenarios and apply psychological treatments accordingly.
What are some of the most important skills for Psychiatric Technicians to have?
Empathy, patience, emotional resilience, professionalism and the desire to help improve the mental health of their patients.
What do you find to be the most rewarding aspect of being a Psychiatric Technician?
The most rewarding aspect is being a part of an industry devoted to helping people improve their mental health problems.
How Much Do Psychiatric Technicians Get Paid?
Psychiatric Technicians are typically paid on an hourly basis, with the median hourly wage in the United States being $14.97 according to the Bureau of Labor Statistics. The lowest-paid Psychiatric Technician makes about $10 per hour, while the highest-paid can earn around $29.00.
Top 10 States for Psychiatric Technicians Salary
Psychiatric Technicians in the following states make the highest median hourly wage in the U.S.
Psychiatric Technicians Resources
We compiled this list of additional resources to help you continue exploring a career as a Psychiatric Technician.
Professional Groups
California Association Psychiatric Technicians
CAPT is the professional association for approximately 14,000 state-licensed Psychiatric Technicians who work in California programs serving people with mental illnesses and developmental disabilities.
Blogs
Natasha Tracy
A website for bipolar patients, with an emphasis on psychiatric technicians
Therese Borchard:
A Mental health writer and a founder of Project Hope & Beyond, an online community for persons with treatment-resistant depression and other chronic mood disorder.
Lindsay Holmes
Tackles misconceptions about therapy and mental illness, often reframing issues people have long misunderstood. Holmes also offers tips on how to live a happier life and reduce stress.
Books