If working within the community and helping offenders fulfill their probation obligations sounds like something you would like to do, you may consider a career as a Probation Officer. In this article, you can find out the training you will need, job prospects and pay averages across the country.
If you are having writers block, our resume examples can help. Choose from hundreds of job titles to find the right example for your needs.
Improve your application with a personal message! Your resume may summarize your qualifications, but a cover letter can help you express your professional accomplishments and working style. Pair these cover letter templates with our builder subscription to unlock AI-powered text templates and professional designs that will help you submit a complete application.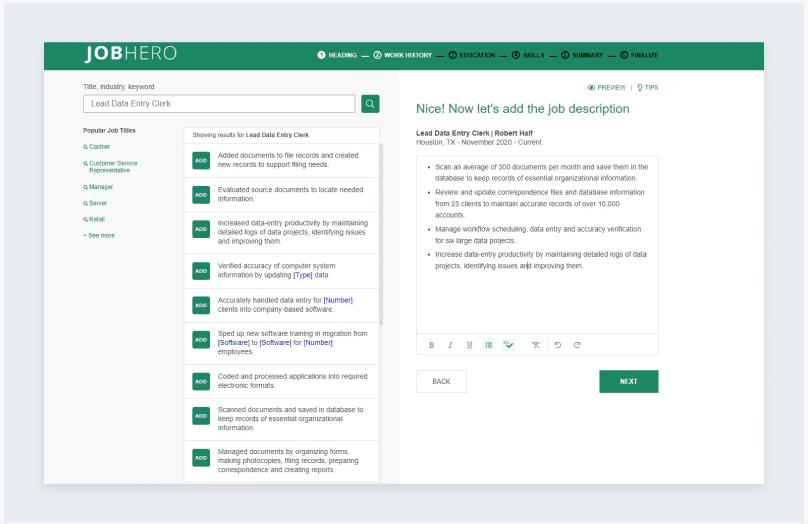 BUILD MY RESUME
What Does a Probation Officer Do?
A Probation Officer serves as an intermediary between judges and offenders who were convicted of crimes and offered probation instead of incarceration. They work in courts and in communities to make sure offenders follow the rules of their probation.
Probation Officers must be knowledgeable in the probation terms and rules as they apply to each offender, but they must also have the interpersonal skills to deal with offenders, victims, family members and the local community. Common responsibilities of a Probation Officer include:
Monitoring offenders who are on probation by home visits, GPS trackers and informal supervision

Meet court appointed deadlines, such as court dates

Complete clerical tasks, such as violation records

Provide drug tests to offenders

Work within the community to help offenders find work and shelter
Probation Officer Skills
It can be challenging to work as a Probation Officer, as this position requires interacting with violent criminals and people who have broken the law. Probation Officers must be authoritative to command power and respect; otherwise they will not be able to enforce the law. However, they must also be empathetic and sensitive when dealing with victims and family members, being able to deal with people that are grieving and may be frustrated with the legal system. Furthermore, Probation Officers must be able to act as counselors to offenders, listening to their problems, advising on the best solutions and warning against making wrong decisions.
Other key Probation Officer skills include:
Active listening skills

Ability to relate to all types of people

Time management skills

Stress management skills

Ability to follow procedures
How Do You Become a Probation Officer?
Education and Training
Although the minimum requirement for becoming a Probation Officer is a high school diploma or equivalent, while searching for Probation Officer jobs throughout the country, we found that most job openings require a bachelor's degree in a field in human service, such as criminal justice, psychology or sociology. Many jobs asked for prior law enforcement training or internships in counseling or social work. Some positions offered on-the-job-training after candidates passed a criminal check and a drug test, in addition to psychological and endurance testing.
Finding a job
A growing United States population will result in an increase in crimes, which will lead to more job openings for Probation Officers. The Bureau of Labor Statistics estimates that there will be a 4 percent increase in job vacancies for Probation Officers and Correctional Treatment Specialists, resulting in 2,130 new jobs in the next eight years.
To make your application stand out, you need to detail your education and professional experience as related to criminal justice. Viewing Probation Officer resume samples with help with editing your resume.
View Probation Officer job openings to find jobs in your area. It may be advantageous to network with individuals who work in law enforcement or in the judicial system to inquire about possible job openings.
JobHero's cover letter examples will guide you as to how to express interest in a Probation Officer position, and explain why you will be the best candidate for the job.
Insights from a Probation Officer
If you're interested in learning more about what its like to be a Probation Officer, read on. Here is some insight for you to better understand what a Probation Officer really does.
What should someone consider before becoming a Probation Officer?
As you will have to constantly deal with convicted felons, you will more than likely find yourself in dangerous situations. Don't expect to make many friends in this line of work. There is also a tedious and boring side to this job, and it's the paper work. As a representative of the legal system, you will be required to fill out reports constantly. There is also a generally negative attitude towards probation departments. You will have to deal with that as well.
What is the common career path for a Probation Officer?
Generally, Probation Officers have a bachelor's degree in criminal justice, sociology, psychology, or a related field. In some cases, you may be required to attain additional education or certifications to apply for federal positions or any other position of higher responsibility. Some higher-level education could be a master's degree in social work, or in counseling. It just depends on what you are trying to achieve.
What type of person excels in this job?
Strong character, disciplined, organized and respectful individuals can excel in this profession. People with experience in law enforcement have a great advantage when hiring for this job.
What are some of the most important skills for Probation Officers to have?
Probation Officers need good communication skills and the patience to discipline and instruct others. Theay also need to have the ability to identify and solve problems and great time management skills.
What do you find to be the most rewarding aspect of being a Probation Officer?
Probation Officer is a good and steady job with good benefits. But the most rewarding aspect is being part of an organization that is making a real change in people's lives and in society.
How Much Do Probation Officers Get Paid?
A Probation Officer typically gets paid hourly, with the median hourly rate in the U.S. being $23.73. The highest paid Probation Officers make $41.41 per hour, while the lowest paid earn $15.82 per hour.
Top 10 States for Probation Officer Salary
Probation Officers in the following states make the highest median hourly wage in the U.S.
Probation Officer Resources
Additional resources are available to help you learn more about becoming a Probation Officer.
On the Web
National Institute of Corrections
Training, technical assistance, information services and policy/program development assistance for federal, state, and local corrections agencies.
Professional Groups
American Correctional Association

Information about certification, accreditation and professional development for Probation Officers.
Books
Sources for this article include the Bureau of Labor Statistics, online job postings and other online sources.