Does a job as a Jeweler sound appealing to you? First, you should research the skills and education you may need to work in this field. Second, consider the average pay rates and job outlooks for Jewelers, as well as additional resources to help you explore this career further. Third, read this article to find out all the information you need to decide if this is the path for you.
Studying resume samples and examples are a great way to get inspiration for your own. Study our library of examples today!
Improve your application with a personal message! Your resume may summarize your qualifications, but a cover letter can help you express your professional accomplishments and working style. Pair these cover letter templates with our builder subscription to unlock AI-powered text templates and professional designs that will help you submit a complete application.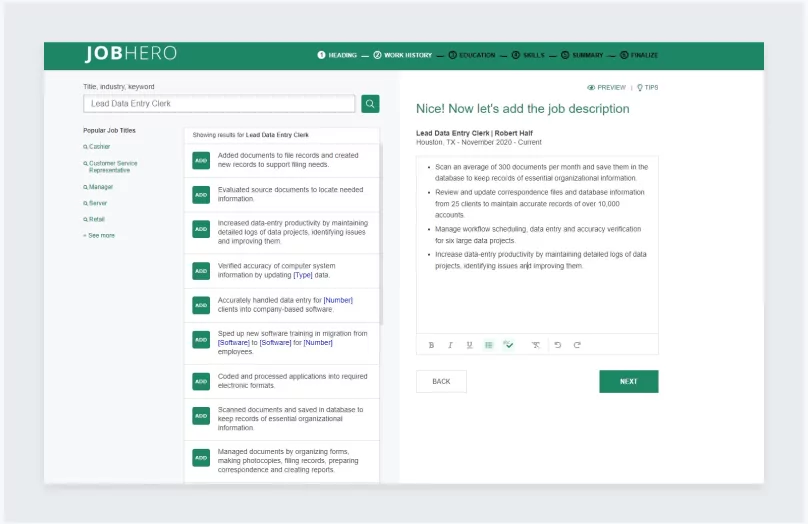 BUILD MY RESUME
What Does a Jeweler Do?
A Jeweler typically performs some or all of the following functions: designing, manufacturing and selling jewelry. In addition, they also appraise and repair jewelry and gems. Jewelers work with a variety of carving and cutting tools, molds and other technology to shape jewelry into specific sizes and shapes. Jewelers work in jewelry stores, repair shops and manufacturing plants. Many Jewelers are self-employed, working out of their own jewelry stores, or from home, selling their items online or at trade and craft shows.
Being a Jeweler requires technical skills to design and make jewelry, as well as industry-knowledge to assess and appraise jewelry and gems. Typical daily tasks of Jewelers involve:
Jewelry design, which involves sketching, 3D printing, computer-aided design (CAD), or molds

Jewelry appraisal, which involves being knowledgeable in gemology

Jewelry modification and repair

Jewelry cleaning and polishing

Sales and marketing
Jeweler Skills
Working as a Jeweler requires knowledge in the industry and skills to design and manufacture jewelry, but there is so much more that a person in this position needs to possess. Jewelers typically work directly with clients, so they must have customer service skills to sell expensive items that are typically a big investment for people. A jeweler must be able a good listener and communicator, and clearly explain differences between different pieces, and how price is determined based on them.
Other key Jeweler skills include:
Attention to detail

Time management

Coordination

Manual dexterity

Ability to turn concepts into jewelry
How Do You Become a Jeweler
Education and Training
There are many ways to becoming a Jeweler, some as simple as apprenticing in a reputable jewelry shop to jumpstart your career. However, to give yourself an advantage over the competition, consider getting a professional degree. You can earn a bachelor's degree in Arts or Fine Arts, and move on to complete a master's degree of Fine Arts in Metalwork and Jewelry Design.
There are schools that are specifically dedicated to teaching students about jewelry design and creation, such as Birmingham City University in England and the Rochester Institute of Technology in New York.
An alternative to getting a college degree is the completion of a program from a vocational or trade school in jewelry making, which can take from half a year to one year.
If you plan to own your own jewelry store, it is beneficial to take management classes to learn how to run a business. If you plan to design jewelry, it can be helpful to learn how to work with 3D printing, CAD, as well as molds, which can be accomplished with apprenticeships or on-the-job training.
The Jewelers of America offers four credentials for Jewelers:
Certified Bench Jeweler Technician (CBJT) - for the entry-level Jewelers with a year's worth of experience.

Certified Bench Jeweler (CBJ) - for Jewelers with two years of experience, focusing on repair.

Certified Senior Bench Jeweler (CSBJ) – advanced degree focusing on making jewelry.

Certified Master Bench Jeweler (CSMJ) - a degree that indicates mastery over the craft of making jewelry.
Finding a job
The Bureau of Labor Statistics predicts a negative 11 percent drop in jobs for Jewelers and Precious Stone and Metal Workers through 2024, with only 620 new jobs becoming available in the next eight years. This decline is due to the fact that jewelry production has largely moved outside of the United States.
A professional Jeweler resume should include skills and competencies like excellent eye-hand coordination, manual dexterity, attention to detail and customer service skills.
If you plan to find an apprenticeship or job in a jewelry store, search through JobHero's vast library of job openings.
A cover letter should express your interest in the jewelry industry, and explain why you are qualified to work in this position.
Insights from a Jeweler
Slisha Kankariya of Four Mine, an online jewelry retailer, shared her thoughts on what it takes to become a Jeweler.
What is the common career path for this position?
Most jewelers come into the business as a result of family legacy in the trade. Families are in the jewelry business for generation and pass their knowledge and expertise onto their future generations. Crafting jewelry is as much about art, science and business - in three equal parts. A lot of this practical knowledge is best learned training with someone who is already an expert in the field. Jewelry is also about connections and relationships and building trust and all those are carried through generations.
What should someone consider before becoming a Jeweler?
Being a jeweler requires a large input of time and oftentimes capital. It also requires one to have knowledge of many different things like the technicalities of gemstones and diamonds, the costs of labor, the nuances of trends and the ups and downs of the demand for fine jewelry. It also requires patience, as creating a brand and gaining the trust of a consumer can be a long road.
What type of person excels in this job?
A multitasker who can bridge jewelry traditions with technology and new ways of shopping for the millennial generation is the best kind of person who can succeed in this field. It really is something that requires a little bit of all types of skillsets, especially if one is starting their own business. A go-getter who is able to understand trends before they happen is the one that can ultimately succeed in this business.
What are some of the most important skills - hard and soft - required for this position?
Patience, business acumen, people skills, salesmanship, honesty, reliability, technical capabilities and vision are needed to succeed.
What do you find to be the most rewarding aspect of being a Jeweler?
Being a part of the happiest moments of someone's life or bringing true joy to their life by creating something for them that they will treasure for years and maybe even generations to come.
How Much Do Jewelers Get Paid?
Jewelers make an average yearly salary of $37,100. The highest-paid Jewelers make $67,200, and the lowest-paid earn $21,600.
Top 10 States for a Jeweler's Salary
Jewelers in the following states make the highest median salaries in the US.
Jeweler Resources
For more information about becoming or working as a Jeweler, take a look at these sources.
On the Web
On LinkedIn
Gen-Next Jewelers
Seeks to develop a tight-knit community where the next generation leaders in the jewelry industry can connect.
Blogs
Gem Gossip
A top end jewelry blog that talks about all things sparkly.
Diamonds in the Library
A professional writer who discusses topics like taking photos of jewelry with your iPhone and packing jewelry.