Consider teaching if you're a fluent French speaker and want to help spread the language. Our "how to become a french teacher" guide covers the major education, certifications and skills you need to become a professional teacher.
Studying resume samples and examples are a great way to get inspiration for your own. Study our library of examples today!
Improve your application with a personal message! Your resume may summarize your qualifications, but a cover letter can help you express your professional accomplishments and working style. Pair these cover letter templates with our builder subscription to unlock AI-powered text templates and professional designs that will help you submit a complete application.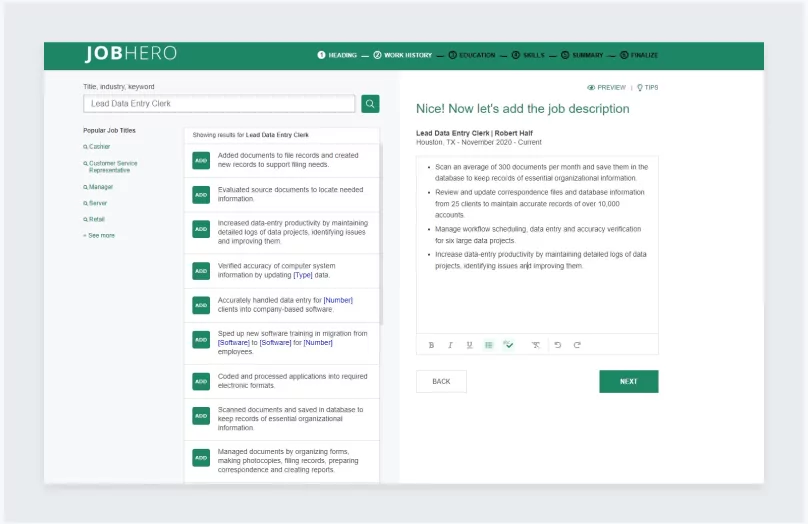 BUILD MY RESUME
What Does a French Teacher Do?
A French teacher teaches the French language to children and adult students. They often work in public and private schools, colleges and universities, and foreign language and online language schools.
To succeed in this role, French teachers must be competent in the following areas:
Verbal and written fluency in French.

Teaching others how to speak, read, write and comprehend this foreign language.

Applying teaching techniques to class environments.

Designing lesson plans, study guides, and take-home assignments to encourage student fluency.

Motivating students to persist in their learning efforts.
How Do You Become a French Teacher?
The Bureau of Labor Statistics predicts a slight. 6% employment rise for foreign language and literature and postsecondary teachers and a 5% annual growth for high school teachers. This growth is fueled by higher enrollment rates at schools and colleges and larger classrooms.
To properly train and qualify for these job opportunities, follow these steps on how to become a French teacher:
The most crucial step in becoming a successful French teacher is personally mastering the language. Whether you started learning French early or picked it up during high school and college, you'll need to take French classes or tutoring to learn written, speaking and grammatical rules.
2
Earn a bachelor's degree in an educationally relevant major.
After reviewing French teaching job openings across the United States, we found that most employers require a minimum bachelor's degree in linguistics, foreign language or a related educational field. In some cases, native fluency was accepted in place of this requirement; however, most employers seek applicants with a professional degree.
3
Build your teaching skills by tutoring or interning.
Actively taking French-speaking courses may perfect your mastery of the language, but you'll also need to develop the instructional and organizational skills required by teachers.
Volunteering to tutor or picking up internships as a teacher's aide can help you develop valuable skills like managing students, developing assignments or lesson plans, grading assignments and organizing student files.
4
Study and prepare for your state's educational requirements.
Some public and private schools require applicants to have teaching certifications, state-issued licenses or graduate degrees in education to apply for a foreign language position. Visit Learn.org to discover more about your state's teaching credential requirements.
5
Consider a master's degree or doctorate in education.
Some school boards and two-year colleges require instructors to hold a master's degree in education and teaching credentials. Additionally, four-year colleges and universities may require doctorate degrees in education, foreign language and literature, or linguistics to apply as a French professor.
6
Apply for open french teacher jobs.
Once you're ready to kick-start your job search, carefully tailor your resume to highlight your fluency in this foreign language and your education experience. You can peruse our extensive library of French teacher resume samples or try our AI-powered Resume Builder to customize your resume with a simple questionnaire.
French Teacher Skills
To become a French teacher, more than being fluent in French is required, as the individual must be able to teach this language to others. This requires teaching in individual and group settings, having leadership qualities and excellent communication skills. French teachers must be patient, understanding, empathetic and motivating.
1
Written, verbal and comprehensive fluency in French.
2
Use grading software and online tools such as Zoom, Blackboard and academic research databases to create and adapt lessons for students and monitor progress.
3
Familiarize yourself with standardized test goals to help students prepare for academic benchmarks.
1
Organization skills to develop lesson plans.
2
Leadership skills to lead classes and foreign language clubs.
3
Communication skills to interact with various types of people.
4
Disciplining skills to hold students accountable for their behavior.
5
Analytical skills to assess students' abilities, weaknesses and strengths.
Insights from a French Teacher
To provide real world feedback on what it takes to become a French teacher, below is an interview with John Lader from City Speakeasy, an "Immersion-Based" Foreign Language School in NYC.
What is the common career path for French Teacher?
The most common career path is to major in French at the undergraduate level, followed by a Master's program in education. The school that I went to actually allowed me to do both at the undergraduate level, though I didn't actually receive a degree in education. My degree was in Romance Languages, with a concentration in secondary education. In my last year of college, I did one semester of observation at the high school level, and one semester of full-time student teaching at the middle school level. Before finding a full-time position, you might try tutoring, giving private lessons, or even teaching English in France (there is a French government sponsored program for recent American graduates).
What should someone consider before becoming a French Teacher?
The key to being successful as a teacher is to love what you're doing, and to really care about making a difference in your students' lives. If you ever have to show up to teach a class feeling like it's "work," then you're probably not in the right field. Teacher's salaries across the country range from below average to slightly above average, depending on the state that you live in, so your motivation for being a teacher shouldn't be the salary. The job market for French teachers isn't exactly booming, so I stress that you must really love what you're doing.
What type of person excels in this job?
The greatest French teachers that I've had the pleasure to take courses with or to work alongside as colleagues were all a bit quirky, but in a good way. I think that you have to be a total Francophile to teach the language, that is someone who is a fanatic of all things France and French.  You obviously have to be comfortable standing and speaking in front of a room full of people, but you also have to be adept at getting your students to start speaking. Regardless of motivation, most students of a second language are hesitant to try conversing in that language. It takes a real teacher to get past that natural hesitation. A French teacher is essentially an actor, a performer, a poet and sometimes even a signer or dancer.
What are some of the most important skills for a French Teacher to have?
You really have to be a people person. You have to know how to connect with people. Just speaking the language is only a small fraction of what is needed to be successful. You also need to be able to read your student's receptiveness to what you're teaching, constantly gauge their understanding and find ways to challenge them each and every day. If you're teaching children, it helps to have an extra couple of sets of eyes. You also need to be quick on your feet. Lessons rarely go exactly as planned. It's up to you to be able to adapt quickly so that your students can continue learning.  It's hard to learn these skills as a student. You learn them when you start teaching, and you enhance them with each new day.
What do you find to be the most rewarding aspect of being a French Teacher?
I currently teach at City Speakeasy, a language center for adult learners in New York City. The classes are intense, 10 weeks of two-hour sessions. Everyone coming into the program has a specific reason for learning French, such as an upcoming wedding to someone French, a promotion that would require French fluency or even just an upcoming trip to a French speaking country. I like to take the time to learn these motivating factors, because at the end of the semester it feels so great to know that the student is ready to impress their new in-laws with their French, that they will do just fine working every day in the language, or that they are going to have no problem ordering a pain chocolat and a coffee in a Parisian café on their trip.
How Much Do French Teachers Get Paid?
Foreign Language and Literature Teachers make an median annual salary of $61,400. The lowest paid earn $34,000 while the highest paid make $118,500.
Top 10 States for a French Teacher's Salary
Foreign Language and Literature Teachers in the following states make the highest median salary in the US.
French Teacher Resources
For more information about becoming a French Teacher, check out these additional sources.
On the Web
Blogs
Books
The information in this article comes from the Bureau of Labor Statistics, job postings and other online sources.