Here's how to become a driving instructor if you wish to encourage safe and courteous driving practices and help people hit the road. This guide includes information related to your educational and training requirements, advice from a seasoned driving instructor and access to driving instructor resume examples.
Boost your resume with a strong cover letter. Our Resume Builder includes a complimentary cover letter builder featuring templates, suggested letter drafts and instructor-specific skills.
Need cover letter guidance? Add a cover letter to your resume using our cover letter formats how-to guide and add value to your resume.
Boost your resume with an extra click. Our cover letter templates match our resume templates' designs for a cohesive application. Use a template in our builder to help you quantify and expand upon the experience from your resume and impress employers.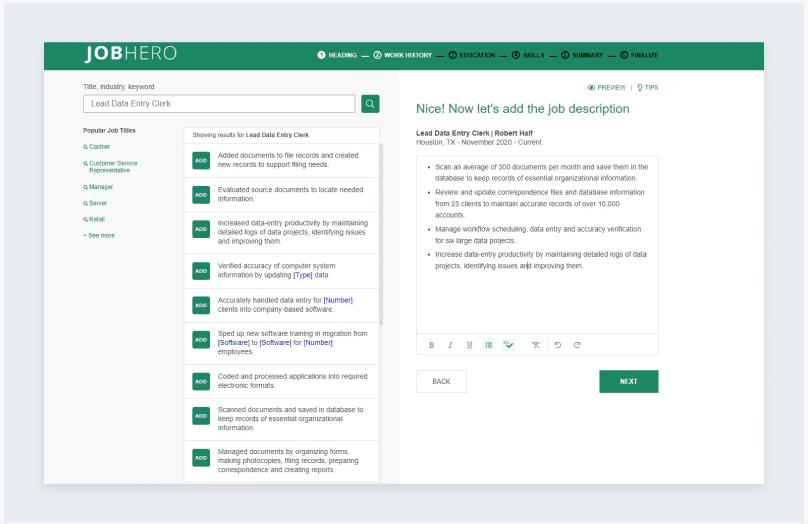 BUILD MY RESUME
What Does a Driving Instructor Do?
First and foremost, driving instructors teach others how to safely and effectively operate a vehicle, whether the car in question is a sedan or a semi-truck. Driving instructors can work at public or private high schools or dedicated driving schools.
Additionally, driving instructors must have extensive and up-to-date knowledge of the technical aspects of driving and road rules to impart that knowledge to student drivers.
Common driving instructor duties and responsibilities include:
Presenting lessons in a classroom setting.

Explaining rules and procedures to a variety of students.

Providing behind-the-wheel instruction and feedback.

Safely resuming control of the training vehicle when needed.

Sharing extensive and up-to-date knowledge of the technical aspects of driving.

Regularly reviewing and memorizing local or state driving regulations and laws.
How Do You Become a Driving Instructor?
According to data published by the Bureau of Labor Statistics, demand for career and technical education teachers, including driving instructors, is rising by 2%. The bureau estimates approximately 17,200 job openings per year between 2021 and 2031. Considering the high rate of job opportunities now would be a good time to apply for a driving instructor position. Here's how to do just that:
1
Pass your permit and practical driving exam.
Initial driving exams vary by state, but you'll typically need to pass a written exam and driving course, especially if you're underage. Contact your nearest Department of Motor Vehicles (DMV) to learn more about your state's licensing requirements.
2
Complete your high school diploma or equivalent.
According to our analysis of online job postings, employers are looking for driving instructors with a high school diploma, GED or equivalent. However, you won't need to pursue further education unless you want to work for a school district. If so, you may need to earn a teaching certification or a master's in education, depending on the hiring requirements of the district or school in question.
3
Complete a driving instructor certification program.
The types of programs or classes you complete depend on your state's requirements. Some states only require a driving instructor certification course; others may require you to prepare for specialized licenses such as commercial, non-commercial or motorcycle class licenses.
Although each state has its requirements, the Federal Motor Carrier Safety Administration (FMCSA) offers a comprehensive certification program with multiple stages of certification.
4
Acquire your state's instructional license.
As we mentioned, each state's driving instructor certification has varied requirements. However, most states will require you to demonstrate the following:
Completion of a high school diploma or GED program.
Valid driver's license.
Completion of an approved training program.
Submit to a criminal background check.
Maintain a clean driving record.
5
Renew your license as needed.
As with your regular driver's license, special class licenses and driving instructor certifications require regular renewals. Keep track of your upcoming expiration dates and any changes to your state's renewal requirements.
6
Decide between starting a business or finding an employer.
Once fully qualified, you can start an independent driving school, apply for a job with a private instructional company, or apply to a local high school. Many high schools may require additional qualifications to legally allow you to teach registered students, as seen below.
7
Earn a bachelor's degree.
Most states and employers don't require a college education. However, some public and private high schools need their candidates to have a teaching certificate, bachelor's or master's in education.
If you wish to teach for a school district, you should also gain these general education requirements in addition to your state's driving instructor certification. Teach.org offers a comprehensive list of teaching requirements per state.
8
Pitch yourself for an open job.
Driving Instructor Skills
Knowing the ins and outs of traffic law is critical, but this knowledge is only one part of a driving instructor's skill set. You must also be able to communicate effectively with your students and their parents or guardians. Developing the following skills can help you become an effective instructor.
1
Excellent driving skills and technical knowledge.
2
Car maintenance knowledge.
3
Prepare study guides and lesson plans for students.
1
Verbal communication skills to provide clear instructions and feedback.
2
Attention to detail to carefully observe students' decisions, demeanor and conditions on the road.
3
Excellent listening skills to answer students' concerns and questions during driving lessons.
4
Problem-solving skills to quickly respond and take control of the vehicle when needed.
5
Calm and patient demeanor to help keep nervous or excited students calm and in check.
Insights from a Driving Instructor
To get an insider's perspective on how to become a Driving Instructor, we talked to Robert Simmons, the owner of Nevada Driving Schools in Las Vegas, Nevada.
What is the common career path for Driving Instructors?
People who have worked in education or training capacities in the transportation field, military or law enforcement.
What should someone consider before becoming a Driving Instructor?
Candidates must consider the fact that they must complete an 80 hour training course involving classroom instruction, traffic laws, defensive driving and in-car instruction. They must pass the DMV instructor test as part of the instructor certification process. The pay range is $15 to $20 per hour. The ideal candidate is semi-retired or retired and is supplementing their income, or is looking for part time work of up to 20 hours per week.
What type of person excels in this job?
People who excel in driver education have a passion for the job and the have the ability to relate all subject matter to students. The job takes a great deal of patience to be able to handle stressful situations and the different rates of learning by students.
What are some of the most important skills for Driving Instructors to have?
The hardest and most challenging part of the job is multitasking, as the instructor has to be ready to handle any situation that arises. On each day of in-car instruction, the instructor must set up a good foundation for the training lessons. They must ascertain the student's abilities to determine the course of training for each behind the wheel session. The instructor must create a comfortable and non-stressful environment. The instructor must integrate the traffic laws into lesson plans, so the student will understand the need to follow the laws at all times.
What do you find to be the most rewarding aspect of being a Driving Instructor?
The most rewarding aspect is to see the skill development of the student as they make progress from lesson to lesson, and having a student or parent praise the instructor for a job well done.
How Much Do Driving Instructors Get Paid?
Driving Instructors are typically paid an hourly rate, and often work part time. According to online sources, the median hourly rate is about $14. On the low end, Driving instructors earn about $10 per hour, while the highest paid Driving Instructors receive an hourly wage of about $20.
Top 10 States for Driving Instructors Salary
Driving Instructor Resources
We put together this list of resources to help you continue exploring your career as a Driving Instructor.
Professional Groups
The Driving School Association of the Americas
The DSAA is made up of more than 50,000 driving instructors, as well as more than 8,000 driving schools. Its primary goal is to promote professionalism, safety and effective teaching methods, and it also offers insurance plans, multiple seminars and events and a newsletter.
Driving Instructors on LinkedIn
Driving Instructors
This group of nearly 3,000 members is a great place to seek and give advice, stay up to date on news and connect with a community of Driving Instructors.
Simulator-Based Driver Training
This group of more than 3,500 members is focused on the technological advancements of simulator-based driver training and all the teaching methods which go along with it.
Driving Instructor Books
How to Drive
Written by professional driver Ben Collins, this book is not only useful for drivers but for Driving Instructors who want to give their students the best possible information. It contains tips on everything from safe emergency braking techniques to dealing with difficult weather conditions.
Traffic: Why We Drive the Way We Do
This book examines driving and traffic patterns from a psychological perspective. Topics such as commonly made mistakes, the cause of traffic jams and smart technology are all explored.