If you are an outgoing individual who likes to work with people and help them to look their best, then you might be successful in a career as a Beautician. Continue reading to find more information about the skills, training and certification requirements needed if you are considering becoming a Beautician.
Studying resume examples is a great way to get inspiration for your own. Study our library of example today!
Improve your application with a personal message! Your resume may summarize your qualifications, but a cover letter can help you express your professional accomplishments and working style. Pair these cover letter templates with our builder subscription to unlock AI-powered text templates and professional designs that will help you submit a complete application.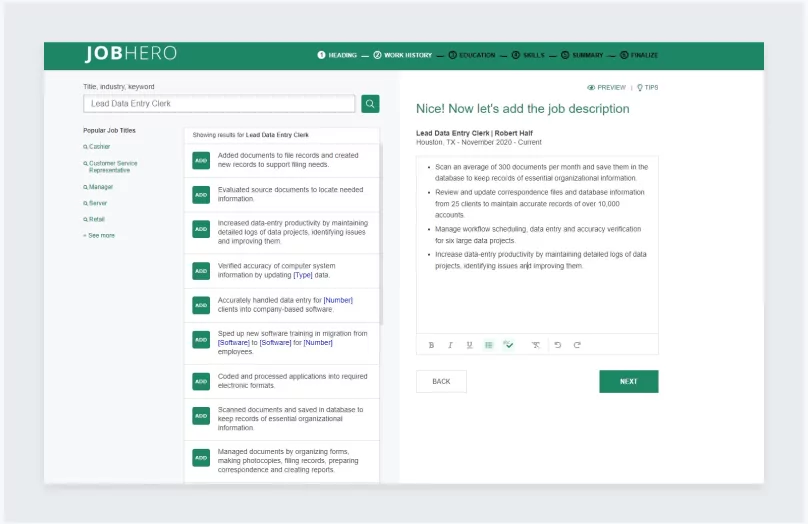 BUILD MY RESUME
What Does a Beautician Do?
A Beautician, also called a cosmetologist, essentially provides hair and skin care services. They wash, cut and style hair; recommend and sell hair styling products; wax eyebrows; perform facials and skin peels; and offer treatments for some types of skin or scalp issues. A Beautician can be self-employed and work from a home-based office, though most work in beauty salons. They might also work in spas or at vacation resorts.
Beauticians should have strong creative and interpersonal skills. Common Beautician duties and responsibilities include:
Physical tasks, such as cutting and styling hair and applying skin treatments

Customer service tasks, such as helping clients choose hair styles and assisting with makeup applications

Clerical tasks, such as making appointments and taking payments
Beautician Skills
A successful Beautician should possess strong analytical, communication and listening skills. They should be creative thinkers with an eye for detail. A Beautician should be able to work independently and apply strong decision-making skills in helping clients choose hair styles or designs.
Other key Beautician skills include:
Math proficiency for taking payments and making change as needed

Ability to stand for long periods of time
How Do You Become a Beautician?
Education and Training
We have consulted several online job postings for Beauticians and found that most employers require that job candidates posses a high school diploma or equivalent. Many states require that those who are seeking to become a Beautician or cosmetologist complete a program at a cosmetology school. Cosmetology classes can also be taken at vocational schools or community colleges.
Cosmetology programs typically combine classroom instruction with hands-on learning in school-based salons. Classes cover such topics as hair styling, skin care and makeup. For Beauticians who wish to operate their own salons, courses in business and marketing are helpful. These programs can result in a certificate or an associate's degree.
All states require that Beauticians hold a license. In order to obtain a license, aspiring Beauticians must complete a written and/or oral exam. These exams are administered by different governing bodies from state to state. In some states, Beautician licensing is the responsibility of the state's department of health or licensing bureaus. Some states have boards of cosmetology that oversee this requirement. In some cases, completion of a cosmetology program could be a requirement to take this certification exam.
Finding a job
A 10 percent job growth rate for Beauticians is projected between 2014 and 2024, reports the Bureau of Labor Statistics (BLS). Demand for services in hair styling, coloring and similar treatments has grown over the past several years and is expected to continue into the next decade. Competition is expected to be high in this field, most notably at salons that pay well.
When conducting a Beautician job search, it is crucial that you have a quality resume. Our library of Beautician resume samples provide you with a good idea of how to construct an effective resume.
Once your resume is complete, search online for Beautician job opportunities. Draw on your network of professionals you might have met while attending a cosmetology program.
A strong cover letter is an important tool in searching for a Beautician job. This document should outline your interest in working in this field and detail your qualifications and what contributions you feel you can make. Our cover letter samples will help you craft this important document.
Insights from a Beautician
To get more information about what being a Beautician entails, we spoke with Michelle Cobb, owner of Blu Salon & Spa, and Krissy Johnson, owner of Alexander's by Krissy. Below is our question-and-answer session with Ms. Cobb and Ms. Johnson.
What is the common career path for a Beautician?
MC: The common path of a stylist or Beautician is to hustle from day one, hit the ground running on a path of knowledge and growth. The beauty industry is changing daily and advancing. You have to maintain and fine tune your skill. You may want to start in a salon or facility that offers advanced education. It's a great idea to work with a stylist that has experience in the area you plan to be an expert in. For example, if hair color is where you want to advance your knowledge, a top colorist is who you want to stand beside. Seek out education on your own, rely on your energy and grow yourself, this is your journey.
KJ: Typically, after going to beauty school and passing the state exam to be licensed, stylists will find an experienced stylist to assist for 1-2 years. It is during this time that we actually learn how to do hair! After that a stylus need to find a commission based job to build up a client tail, which typically takes one to 3 years depending on the person. Some choose to keep an employee based job for the security while others go out on their own and rent a chair or private suite.
What should someone consider before becoming a Beautician?
MC: Becoming a cosmetologist or beauty professional requires dedication, you really need to ask yourself if it's right for you. A lot of people take the career lightly. It's definitely not for the introvert. Your personality is most of the job, you have to be comfortable speaking and relating to people. Also, be prepared for long hours and nights and weekends. I know that sounds like a lot; however, people want to look beautiful and that's when they are available. Expect to look great all the time because you are advertising your business.
KJ: It's hard work! It's a sales job. You're on your feet 10 hours a day and you've got to engage just as long. It takes a long time to build a clientele and start making money.
What type of person excels at this job?
MC: If you're a go getter and a people person, this career is for you. It definitely helps to be creative and think outside of the box.. this is an excellent career for people who enjoy making others feel their best.
What are some of the most important skills - hard and soft - for Beauticians to have?
KJ: Hard: cutting skills, an "eye". Color skills including an understanding of color theory and chemistry.  Soft: people skills.  One must be able to build rapport in a short period of time.
What do you find to be the most rewarding aspect of being a Beautician?
MC: There are so many rewarding reasons to become a Beautician. The relationships with the people who trust you is unsurpassed. The beauty of seeing and being a part of the most important events that happen in your guests' lives. The look on someone's face when you make them feel amazing with your bare hands is one of the most rewarding things a human being can feel. How about the fact that a busy stylist gets told at least 10 times a day how amazing they are – that's a beautiful thing. This career allows you to express your personality and creativity that most careers won't.
How Much Do Beauticians Get Paid?
In the United States, Beauticians are paid a median hourly wage of $11.38. At the lowest end of the pay scale, Beauticians are paid an hourly wage of $8.47, while those at the highest end are paid $22.79 per hour.
Top 10 States for Beautician Salary
Beauticians in the following states make the highest median hourly wage in the U.S.
Beautician Resources
We have assembled the following resources to provide more information about being a Beautician. These resources might help you to determine if a career as a Beautician is for you.
On the Web
CosmetologistLife.com
In this blog, you'll find various tips and techniques for finding success as a Beautician.
Kathy Jager
A professional Beautician offers a blog addressing industry trends, marketing practices, client relationship development and more.
Industry Groups
Professional Beauty Association
A trade organization offering online and live educational opportunities, speaker programs, trade shows, conferences and career development programs.
Salon & Spa Professional Association
From continuing education programs and instructional seminars to professional sessions and online videos, this organization is devoted to helping Beauticians learn and develop their craft.
Beautician Books