If you are interested in finding out more about what it takes to become a Barista, and what skills you need to excel in this role, this article will provide that information. Additionally, learn how much Baristas earn, job prospects and insight from a real Barista about working in this industry.
Need cover letter guidance? Add a cover letter to your resume using our cover letter formats how-to guide and add value to your resume.
Impress your future boss! According to a 2020 survey, most hiring managers read cover letters for candidates they're considering interviewing before making their final decision. Make a cover letter that seals the deal with our professionally designed cover letter templates.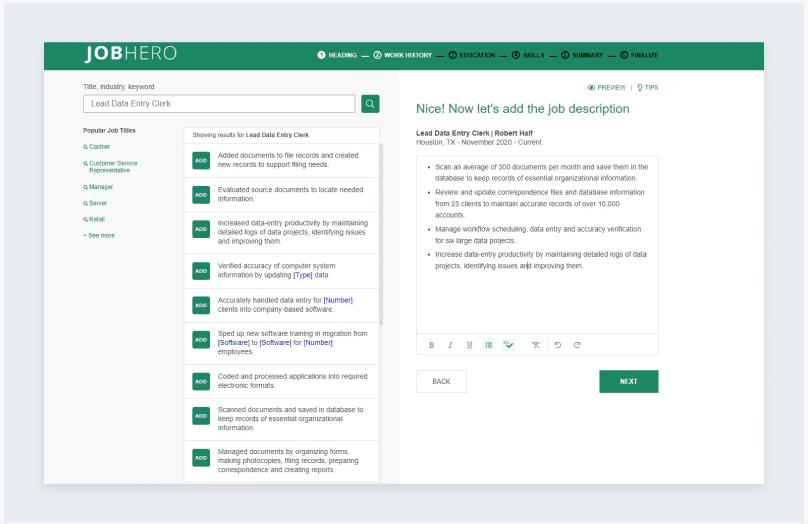 BUILD MY RESUME
What Does a Barista Do?
A Barista sells coffee, equipment, supplies as well as pastries and other food items to consumers. This position requires preparing the coffee, offering samples as well as educating customers about different types and flavors of coffee. Baristas typically work in coffee shops, cafeterias and bookstores. Most people work in this position part-time, as it offers a flexible schedule for students and others.
Typical responsibilities of a Barista include:
Food production, such as coffee and pastries

Sales, such as selling coffee, sweets and related accessories

Education, such as informing customers about items on the menu

Customer service, such as greeting customers

Technical, such as following instructions for coffee preparation
Barista Skills
A Barista must be able to prepare great-tasting coffee and sell it to the customers, but that is only part of the job. Working in a coffee shop requires being able to function in a fast-paced environment, which requires organization and excellent memory skills. Individuals must be able to stand on their feet for the majority of the day, often operating equipment. They must possess excelling listening skills to properly hear customers' orders, and communication skills to describe and sell items on the menu.
Other key Barista skills include:
People skills

Ability to follow procedures

Multi-tasking

Sales and marketing
How Do You Become a Barista?
Education and Training
There are no specific educational requirements to become a Barista, but most employers preferred their employees to have at least a high school diploma or a GED. Most people do not make a career out of this profession, and do this job to earn extra income to pay for college or as a side job. Some Baristas choose this profession because they plan to use the skills and experience gained on the job to later enter into the restaurant industry.

Finding a job
There is a growing demand for Coffee Shop workers, such as Baristas, according to the Bureau of Labor Statistics, which predicts a 6 percent growth through 2024. The American people's growing demand and love for coffee should create 31,810 new jobs in this industry in the next eight years.
A job search starts with creating a professional-looking resume; utilize JobHero's Barista resume samples to create yours today.
Search for Barista job openings across the country, looking for a job that best fits your schedule.
To improve your chances of getting chosen for the position over the competition, craft a cover letter that lists your customer service and communication skills.
Insights from a Barista
To provide real insight into what it takes to become a Barista, we interviewed former Barista, Brooke Knisley.
What is the common career path for a Barista?
In my experience, most baristas got their first barista position with no experience. It was all about personality. In my case, I had worked at a few smoothie shops and could assure my soon-to-be employer that I was a quick learner. After working for that franchise coffee shop for 6 months, I applied at a local coffee house and proceeded to work there for 3 years. That second position liked the fact that I had experience and wanted more of a family environment, the opposite of corporate.
What should someone consider before becoming a Barista?
You have to like people or, at the very least, be able to get along with them. It also helps to appreciate their quirks; everyone has their own morning routine, and no one is quite awake before their coffee.
What type of person excels in this job?
People who have an appreciation for coffee and genuinely enjoy pulling a perfect espresso shot. Any espresso drink, at its core, is great espresso. You can get by being cute or friendly, but an appreciation for quality produces quality. I do have to say, a good attitude is extremely helpful, though, such as when the grid went out in San Diego back in 2011.
What are some of the most important skills for a Barista to have?
From a technical standpoint, frothing the milk without burning it and tamping the espresso grounds just right for an even pull are both important. Latte art is a bonus. Communication is key, from talking to customers to letting your fellow baristas know what is going on.
What do you find to be the most rewarding aspect of being a Barista?
I always liked meeting new people. We would have some regulars who would come in consistently in the mornings or at night, and they were the sweetest people. Sometimes, we'd get to be voyeurs to blind dates from behind the counter (never saw a single one of those go well, honestly).
How Much Do Baristas Get Paid?
As most Coffee Shop Employees, Baristas usually work part-time, and earn an average hourly rate of $9.24. The lowest paid make $8.12, while the highest paid can earn up to $12.88.
Top 10 States for a Barista's Salary
Coffee Shop Employees, such as Baristas, make the highest median hourly rates in the following 10 states:
Barista Resources
These resources can help you learn more about becoming a Barista.
On the Web
Barista Magazine
A leading trade magazine for the international coffee community.
Books
Blogs
The information in this article comes from the Bureau of Labor Statistics, job postings and other online sources.