It's 8:00 a.m. You hit the snooze button, go back to dreaming about avocado toast, and hope that when you wake up, you'll have a slew of excited emails from prospective employers. After all, you email blasted your resume from 2015 to at least five employers last night. You check your inbox. Other than a half-off pizza offer and a reminder for your upcoming dentist appointment, nada. What gives?
You may be surprised to learn your resume needs a few updates — or even a complete makeover. After all, hiring managers and recruiters often spend 15 seconds or less reviewing a resume before they say "yes" or "no" and move on. Your time to make a stellar first impression is precious and fleeting, and we're here to help you nail it.
Need cover letter guidance? Add a cover letter to your resume using our cover letter formats how-to guide and add value to your resume.
Boost your resume with an extra click. Our cover letter templates match our resume templates' designs for a cohesive application. Use a template in our builder to help you quantify and expand upon the experience from your resume and impress employers.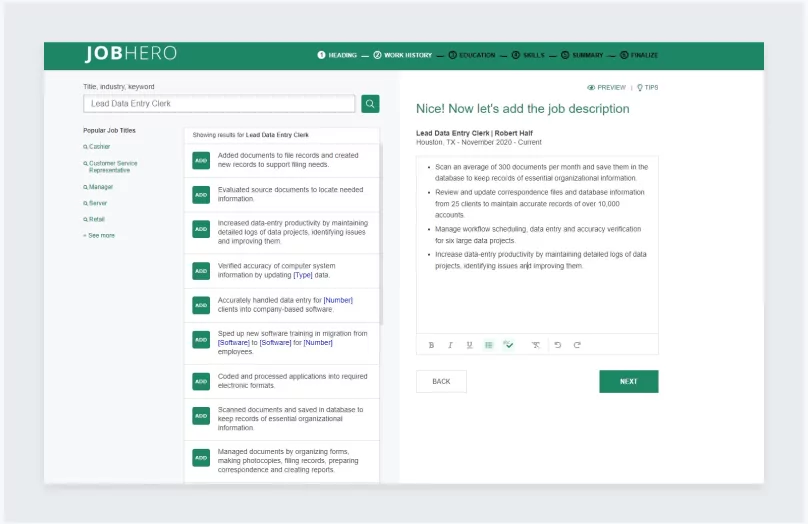 BUILD MY RESUME
Featured in:
Here are 10 things hiring managers look for on your resume
1. Immaculate spelling and grammar
As both serious studies and Twitter rants have made clear, impeccable spelling and on-point punctuation and grammar are a key differentiator when it comes to putting a resume in the "yes" pile or tossing it aside. One careless typo can make a big difference to a hiring manager, particularly when you consider this is their first impression of you. When you can't be bothered to double-check your spelling, how can you make a claim to be detail-oriented or conscientious? Mistakes happen — but on your resume, you should do your utmost to keep them at bay if you want to be considered for the job.
You can use online tools like grammarly.com or your own word processing software to double-check your spelling and grammar — but as these tools can miss nuances humans are more likely to catch, make sure you also show your resume to a friend or colleague to review. Case in point: Timothy Wiedman, now-retired Associate Prof. of Management & Human Resources at Doane University, says he "once received a cover letter from an applicant who mentioned that he'd graduated from a prestigious 'collage!'" And Lora Poepping, President and Founder of Plum, says she "once saw a resume that misspelled public accounting when they left off the 'b'." (Ouch.)
2. Reasonable length
This isn't the time to test-drive that novella you've been working on. But how long is too long? As Laszlo Bock, former VP of People Operations at Google, says, a good rule of thumb is "one page of resume for every 10 years of experience." And as Colin McIntosh, CEO of Sheets and Giggles, says, having a long-winded resume "shows that you can't be concise, place too much emphasis on older jobs that are likely less relevant, or can't recognize what's most important for someone else to know about you. "
When in doubt, use your best judgment, and put yourself in the shoes of a hiring manager. Would you read through your own resume — or start nodding off halfway through? If you have two or more pages of content, is it all relevant and necessary to the job to which you're applying?
3. Solid organization
Clean and concise is the name of the game here. Having a fancy, professionally designed resume isn't necessary, but it's vital that your resume is organized in a way that's easy to read (er, skim). As Eric Hobbs, CEO of Technology Associates, says, "It may seem silly, or old fashioned, but resumes that are formatted properly stand out. If someone submits a resume that looks like they spent five minutes putting it together, and expects me to spend any time deciphering the mess, they are sadly mistaken."
Bolding, bullet points, spacing between sections, and font size that's readable without using a magnifying glass are your friend here. "Your resume should be clean, concise and organized. It should look appealing to the eye, leveraging modern (but not obnoxious) fonts, a good use of white space, and intuitive in terms of the flow," says Ally Compeau, CEO of Woof Signs.
4. Showing, not telling
You must be specific, measurable, and actionable when it comes to including your experience and accomplishments; simply listing out your past job titles and day-to-day duties isn't going to cut it. Sarah Taylor, Talent Acquisition and Development Manager at Wall, Einhorn, and Chernitzer, P.C. calls it a wasted opportunity. "I always recommend that candidates utilize their resumes to promote their unique contributions to their places of work — that's much more insightful than listing what they were asked to do. This shows that candidates recognize their value added to an organization and that they're willing to go the extra mile to push the company forward."
Nate Masterson, HR Manager at Maple Holistics, breaks it down this way: "It's easy enough to tell us you were the manager of a company or a department, but why should that necessarily mean something to us? List your accomplishments — how you grew your department, drove conversions, launched a successful project — in order to stand out and get a hiring manager thinking in terms of what you could really bring to the table."
Dawn D. Boyer, Ph.D., CEO of D. Boyer Consulting, says metrics are vital no matter what the occupational experience. "Even a dinner waitress or waiter can note how many tables and what the per table average for sales were."
5. Personalization
The days of generic resume blasting are long over — and really, mass emailing your resume was never a good idea. While employers need to put in the work when it comes to getting the right candidates, it's important for you to tailor your resume to each company to which you apply. Even a few slight tweaks that speak to why you are uniquely qualified for the role at X company — and why you want to work for them in particular — can make a huge difference. Consider it the resume-writing version of dressing for the job you want. Do you just want to work anywhere, or do you want to work in this particular role, for this particular company? Hiring managers can spot a vague, generic resume from a mile away.
6. Relevant skills
It's tempting to include every skill you've picked up since that ice cream scooping gig the summer you turned 16, but employers really want to hear about the skills that directly align with the job at hand. So, be choosy — and elevate the skills and accomplishments most relevant to the job to which you're applying. "Showcase skills, experience, and results that align, even if the titles don't," advises one VP of global customer success and operations.
7. Chronological order
Functional, or skills-based, resumes, are a big turn-off for many hiring managers because they can be confusing and make it hard to piece a candidate's career together. "Even the most perceptive reader cannot make sense of them," says Sophie Miles, co-founder of QuotesAdvisor.com. The solution? List your jobs chronologically, and focus on specific, measurable accomplishments and skills gained along the way. Sarah Johnston, recruiter and founder of The Briefcase Coach, says, "As a former recruiter and now resume writer and career coach, I have found that candidates using a functional resume are likely trying to cover up their lack of experience, job hopping, or a career gap. I would personally prefer to see a hybrid resume that highlights skills but also tells a chronological story."
8. A clear value proposition
What are the biggest strengths you would bring to the role? Spend some time doing initial research about the position, the company, and the culture before you even start working on your resume. Craft a professional elevator pitch (a 30-second explanation of who you are, what you do, and why you're the right person for the job) and place it somewhere visible. Keep it in mind as you create your resume. Are you effectively communicating your potential value to both the role and the company as a whole? Are you capturing the essence of who you are, and why you should be hired over that guy with the 14-page, copy-and-pasted resume?
9. Professional growth
Whether you've taken classes, worked toward another degree, or become a regular on the Quora expert circuit, take the opportunity to showcase any continuing education you've completed or certifications you've earned. Many companies are investing in continuing education for employees, and by showing you've already taken initiative and have a vested interest in growing your skill set and remaining at the top of your game, you will increase your value to potential employers and be one step ahead.
10. All value, no filler
So what qualifies as filler, exactly? Well, it depends on who you ask. But hiring managers seem to agree that an aspirational "summary" or "objective" statement isn't needed, and can actually be a turnoff. If you do decide to include one, make the real estate count. Jennifer Maffei, President and Founder of VEA Services, advises, "You need to solve the recruiter or hiring manager's problem! How can you do this? You should tailor your objective to become a statement highlighting your achievements, and showcasing how your experience and successes will solve *their* needs."
Lastly, spare hiring managers the extra-personal stuff. "I've seen resumes that list where someone last vacationed and what movies they like. That kind of information isn't really necessary to determine if someone is a qualified match to set up an interview," says Dan Bobst, Founder and CEO of TrendHR.
Nikita Lawrence, Executive President and CEO of The Wealth Success Chamber Enterprises LLC, best sums up what many hiring managers are looking for when it comes to resumes: "Be clear. Be concise. Choose wisely. Spell it right."
Now that's a resume mantra for the ages.